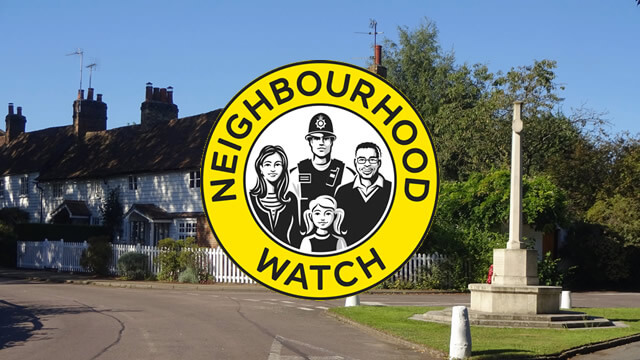 Our Neighbourhood Watch parish coordinator is April Barrett (01707 879938). Neighbourhood representatives are as follows:
Stockings Lane : Jim Holt - 07905 199721
Robins Nest Hill : Darren Smith - 01707 875561
Robins Nest Hill : Susan and Stuart Walker - 07904 460473
Bucks Alley : Antony Tyndale - 07519 399404
Little Berkhamsted Lane : Simon Blayne - 07946 318978
Little Berkhamsted Lane : Jakub Mitura - 07925 576799
Church Road : Harvey Weston - drdubyasnr@gmail.com
Church Road : Warren and Heather Rice - 07951 670327
Church Close : Kevin Adamson - 01707 873032
Goddards Close : Leanne Dring - 01707 873931
Orchard Close : Bronwyn Moore - 01707 873810
Henderson Place : Sally and Mark Smyth - 07968 555502
Woodcock Lodge : Marcia Lawrence - 01707 873284
Woodcock Lodge Deputy : Yasmin Shariff - 07985 085360
Epping Green : Susan Marti - 01707 872695
Howe Green : Wendy Walshe - 01707 261573
Howe Green Deputy : Alastair Kight - 07799 411990
Lower Hatfield Road : Brenda Sell - brendajsell@gmail.com
Neighbourhood Watch (NHW) is about getting together with your neighbours to take action to cut local crime and the opportunities for crime. The NHW representatives will:
pass on to you reports received from the police about crime in this and neighbouring villages, as well as other information received about suspicious behaviour or activities. Relevant information will be posted on the parish notice boards and on the board in the window of the village shop
provide Property Marking Packs, door and window stickers, and information leaflets on personal safety and home security to anyone who would like them.
We hope that you will:
inform the police and your NHW representative of suspicious or criminal incidents
keep a neighbourly watch on households with elderly or vulnerable residents or where the occupants are away.
Provide your email contact details to the Neighbourhood Watch coordinator so that you will automatically receive email updates from the OWL system.
The objective is to set up a two-way flow of information within the parish so that we will all be able to take extra care and exercise greater vigilance to protect ourselves and our property.
Police contact details
In the event of an emergency or if you witness a crime actually taking place call 999. If a crime or other incident you want to report has already happened, call the Hertfordshire Police non-emergency numbers 101.
If you call the police, please

state that it is a NHW call,
get a police log number and
give details of your call, with date, time and log number, to your NHW representative for follow-up.

The police officers responsible for our area are the Neighbourhood Constable, PC Mark Turner, and Police Community Support Officer Sally Brooks on 01707 354192.