Welcome to the community website for the civil parish of Little Berkhamsted, Hertfordshire. As well as the village of Little Berkhamsted, the parish includes the hamlets of Epping Green and Howe Green. The website is sponsored by the parish council for the entire community.
With a population of around 560, Little Berkhamsted is located in the district of East Herts, Hertfordshire, in beautiful countryside near the county town of Hertford. The village has an interesting history and can trace its past to Saxon times. It was in Little Berkhamsted that William the Conqueror accepted the surrender of the City of London after the Battle of Hastings in 1066.
The thriving village community has a parish church, St Andrew's, two pubs; The Beehive in Epping Green and The Five Horseshoes, a cricket club, and a village store. The parish is criss-crossed with public footpaths and bridleways and is a lovely place to live, work and visit.
---
20's PLENTY FOR LITTLE BERKHAMSTED
The banners, signs and bin stickers are on display reminding drivers that 20mph is plenty as they pass through our lovely village. Please help to encourage drivers to slow right down by doing so yourself, especially around pedestrians, cyclists and horse riders.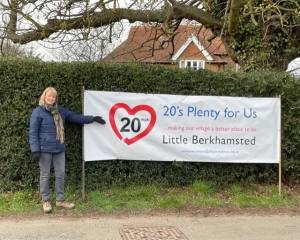 The speed limits in the county are set by Hertfordshire County Council (HCC) and it is our councillors that we need to persuade that a default 20mph limit in all built up areas, including villages, is going to result in safer, cleaner, healthier and quieter roads. At the moment HCC has £7m in place for 20mph areas. Their policy around 20mph limits is to install them with expensive speed humps in a few locations where traffic already travels at less than 24mph. Alongside 20's Plenty for Hertfordshire, a county wide campaign, this is not what 20's Plenty for Little Berkhamsted believes is the best use of public money.
The County Council and Police and Crime Commissioner elections are in May and now is the time to let candidates know that residents want 20mph speed limits in all our villages. Please look out for emails which we will be asking you to send to election candidates, Councillors and MPs in the coming weeks.
Voter turnout is not usually very good for these local elections so we are encouraging 20's Plenty for Little Berkhamsted supporters to register for a postal vote to help ensure our voice is heard. Application to vote by post (publishing.service.gov.uk) This form should be returned to East Herts District Council, Electoral Registration Officer, Wallfields, Pegs Lane, SG13 8EQ. Thank you again for all your support.
If you would like to get involved please contact littleberkhamsted@20splentyforus.org.uk. Further information can be found at https://www.20splenty.org
Parish Council
The next meeting of the Parish Council is on Wednesday 19th May 2021 at 8pm. This will probably be held via Zoom. Please contact the clerk beforehand for meeting log in details.
For minutes of PC meetings, please see the transparency page.
News & Events
Changes to Garden Waste Collections
From 1 April 2021 East Herts will be changing their brown bin service to a chargeable garden waste only collection service. Residents will be receiving an information leaflet though the door over the next few weeks. On their website there is a full list of FAQs and details of how to sign up, including a 'how to' video.
Public Consultation
Relocation of Speed Identification Device (SID) on Church Road, Little Berkhamsted SG13 8LY
The Parish Council have asked the Highways Department of Hertfordshire County Council to relocate the SID on Church Road to a position where it will be effective in reducing the speed of drivers as they enter the village from Epping Green. The proposed location identified is on the boundary line between 21 Church Road and The Old School House, 23, Church Road, set as far back from the edge of the road as is practically possible.
We welcome any comments and questions about the proposed relocation. Please contact the parish clerk: clerk@littleberkhamsted.org.uk before 4th May 2021.
RECREATION COMMITTEE NEWS
There is no longer a separate Recreation Committee organising events in the village. Please read the article by Simon Hedley on the Events page for the full story.
Help the Village
One of the conditions of the East Herts Health and Wellbeing grant that we were awarded for the pavilion renovations is that we sell at least 50 tickets for our cause on the East Herts Lottery. Thank you to those who have already bought tickets, your support is very much appreciated. If you would like to help us in this way, and be in with the chance of winning £25,000, please go to Play the East Herts Lottery
LITTER PICK
At the recent Parish Council meeting it was agreed that a village litter pick would be organised during the Great British Spring Clean, a national event being run between 28th May and 13th June. Please contact any member of the council if you would be available to help. Thank you
Reopened Playground
It is lovely to see the playground being enjoyed by the children again. In line with the Government's regulations please remember the following when visiting:
A maximum of 8 children in the area at one time. Only one household on each piece of equipment at a time. Observe social distancing. No eating or drinking is allowed in the area. The equipment is not regularly cleaned and hand sanitiser is not provided.
BRIDLEWAY 18
At the last Parish Council meeting on 20th January 2021 Cllr Ellis Downes, Chairman of Little Berkhamsted Parish Council, read a statement concerning Bridleway 18 which can be read on the Parish Council page.