Welcome to the community website for the civil parish of Little Berkhamsted, Hertfordshire. As well as the village of Little Berkhamsted, the parish includes the hamlets of Epping Green and Howe Green. The website is sponsored by the parish council for the entire community.
With a population of around 560, Little Berkhamsted is located in the district of East Herts, Hertfordshire, in beautiful countryside near the county town of Hertford. The village has an interesting history and can trace its past to Saxon times. It was in Little Berkhamsted that William the Conqueror accepted the surrender of the City of London after the Battle of Hastings in 1066.
The thriving village community has a parish church, St Andrew's, two pubs; The Beehive in Epping Green and The Five Horseshoes, a cricket club, and a village store. The parish is criss-crossed with public footpaths and bridleways and is a lovely place to live, work and visit.
---
20's PLENTY FOR LITTLE BERKHAMSTED
The banners, signs and bin stickers are on display reminding drivers that 20mph is plenty as they pass through our lovely village. Please help to encourage drivers to slow right down by doing so yourself, especially around pedestrians, cyclists and horse riders.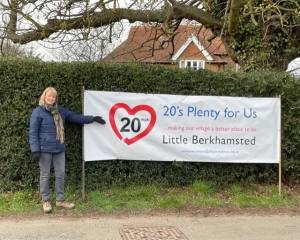 WE ARE NOT ALONE!
The UN are calling for 20mph/30km/h to become the norm in places where people on foot, on bicycles and horseback mix with motor vehicles. Please use the 'Email your MP' facility on the 20's Plenty website https://www.20splenty.org/ungrsw-ukmp which provides an easy way to contact Oliver Heald, our MP, highlighting the need to set a national 20mph speed limit. Every email is another indication to MPs that communities support the high level UN call for lower speed limits and will help to accelerate the introduction of a 20mph speed limit and slower, safer roads in our area.
If you would like to get involved in the Little Berkhamsted campaign please contact littleberkhamsted@20splentyforus.org.uk. Further information can be found at https://www.20splenty.org
Parish Council
The next meeting of the Parish Council will be on Wednesday 18 May at 7.30pm. The agenda for the next meeting will be uploaded to the noticeboard about a week before the meeting.
For minutes of PC meetings, please see the transparency page.
News & Events
Can you Help?
Are you thinking about hosting a refugee family or have you already signed up? Are you willing to help others who are hosting? The Hartford Hundred West Group of Parishes is working with the St Albans Diocese to house families locally. We have a Parish Support Group for all those who wish to be involved in any capacity. No church connection is necessary. Please let us know if you'd like to host a family or to help in other ways. Please contact for more information: hartfordhundredukraine@gmail.com
Help the Village
One of the conditions of the East Herts Health and Wellbeing grant that we were awarded for the pavilion renovations is that we sell at least 50 tickets for our cause on the East Herts Lottery. Thank you to those who have already bought tickets, your support is very much appreciated. If you would like to help us in this way, and be in with the chance of winning £25,000, please go to Play the East Herts Lottery