Welcome to the community website for the civil parish of Little Berkhamsted, Hertfordshire. As well as the village of Little Berkhamsted, the parish includes the hamlets of Epping Green and Howe Green. The website is sponsored by the parish council for the entire community.
With a population of around 560, Little Berkhamsted is located in the district of East Herts, Hertfordshire, in beautiful countryside near the county town of Hertford. The village has an interesting history and can trace its past to Saxon times. It was in Little Berkhamsted that William the Conqueror accepted the surrender of the City of London after the Battle of Hastings in 1066.
The thriving village community has a parish church, St Andrew's, two pubs; The Beehive in Epping Green and The Five Horseshoes, a cricket club, and a village store. The parish is criss-crossed with public footpaths and bridleways and is a lovely place to live, work and visit.
---
Future Village Events
When the old Recreation Committee ended in 2019, there was money left in their account which was transferred to the Parish Council.
The RC raised money to support the PC with the maintenance and upkeep of the village facilities, namely the village hall, pavilion, playground and field, to donate to charity and to organise future village events and fund raising efforts.
Residents are welcome to apply to the PC for money to enable such events to continue.
If you would like to put on an event and need funds to get started please email the Clerk to the PC clerk@littleberkhamsted.org.uk with details of your plans and an approximate idea of the budget needed.
Ebony Riding Club
Kate Noble of Danes Farm hosted the charity Ebony Riding Club from Brixton over three days at the end of July. Inner city kids enjoyed the wonderful hospitality of Danes Farm and the horses enjoyed some well deserved grazing and fabulous hacks. Kate, helped by family and friends, assisted riders and the Ebony staff with hacks around our beautiful countryside, keeping the young people entertained and provided with lots of snacks and food. Delighted villagers saw the ride in and around Little Berkhamsted. The ride stopped to enjoy an amazing lunch at the Beehive PH on the Saturday and were the centre of attention in the beer garden. See posts on Instagram @ebonyridingclubbrixton Danes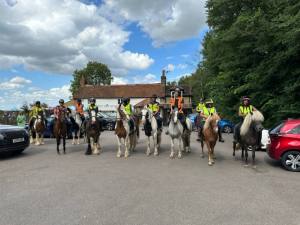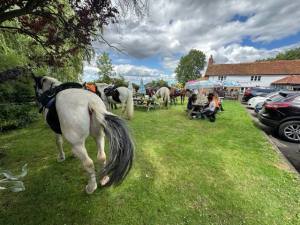 Parish Council
The next meeting of the parish council will be held on 17 January at 7.30pm. The agenda for the next meeting will be uploaded to the noticeboard about a week before the meeting.
For minutes of PC meetings, please see the transparency page.
News & Events
Can you Help?
Are you thinking about hosting a refugee family or have you already signed up? Are you willing to help others who are hosting? The Hartford Hundred West Group of Parishes is working with the St Albans Diocese to house families locally. We have a Parish Support Group for all those who wish to be involved in any capacity. No church connection is necessary. Please let us know if you'd like to host a family or to help in other ways. Please contact for more information: hartfordhundredukraine@gmail.com
Help the Village
One of the conditions of the East Herts Health and Wellbeing grant that we were awarded for the pavilion renovations is that we sell at least 50 tickets for our cause on the East Herts Lottery. Thank you to those who have already bought tickets, your support is very much appreciated. If you would like to help us in this way, and be in with the chance of winning £25,000, please go to Play the East Herts Lottery