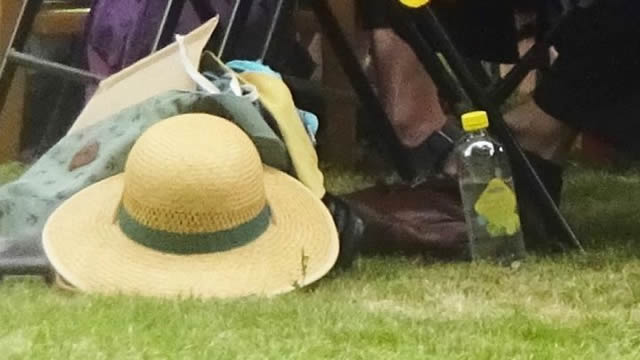 Wedding
Beautiful wedding on the village Recreation Field - September 2021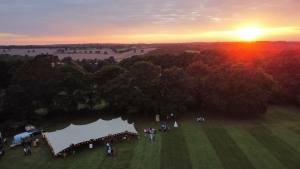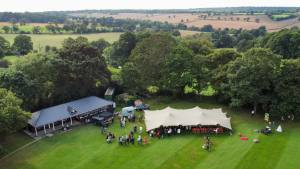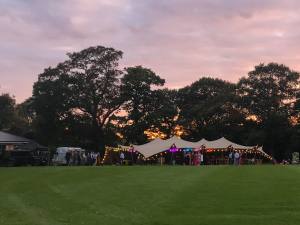 Village Picnic 2021
When it comes to the late August bank holiday, there are two things you can rely on. First, the weather will be unkind, and second, come what may, the great British public will rise to the occasion. Thus was the village picnic on bank holiday Monday.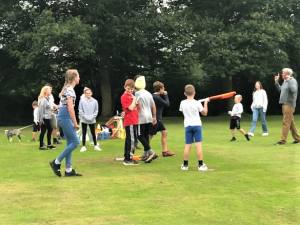 Overcast and drizzle could not stop grandparents, parents and gaggles of children from turning out. Blankets were laid, chairs unfolded, tables assembled and corks popped. The spruced- up pavilion provided a hub with a bar and BBQ (thank you cricket club) as well as never-ending cups of tea and delicious cakes (well done all the cake makers for those donations).
How lucky are we to have such a wonderful green space in the midst of the village; it provided a perfect place and setting for the picnic and sporting events. Overseen by Tony, the kids spent over an hour tackling all manner of challenges (by the way who knew that there were so many children in Little B!). Next it was the grownups turn to join in with a spirited game of family rounders.
Thank you for coming and thank you all of the volunteers marshalled by Penny, Elaine and Sandie; this was the first opportunity for a get together since the pandemic started and was in a true sense "community".
Charles Lambert (Back Acre, Church Road)
Little Berkhamsted Events - Get Involved
New Beginnings
When the Recreation Committee closed down we had a significant amount of money left in the account. In consultation with the Parish Council we have agreed to use this money to create a new Community Fund that will be used solely for the purpose of enabling community events to take place. There will no longer be a call on these funds for the maintenance of Parish Properties and the Parish Council has kindly agreed to keep the fund viable and administer it for the village. This means that any member of our community that wishes to hold a community event can approach the Parish Council for support and funding. In the past the Recreation Committee felt that people may not have wanted to join or get too involved because they feared being stuck doing it for ever more. Hopefully now if residents have a particular interest in putting on an event they can do so without having to get bogged down with other stuff. We now all have the power to take on pet projects that we feel would benefit our community and village and I hope that people will take the opportunity to get involved and improve the village and our environment for the benefit of us all. It can be hard work but very rewarding.
It is important to point out that not all events need to be money makers. Our Parish Council is keen to promote and support events that bring our community together and continue to make Little B such a fantastic place to live. Please remember the resources we have, it is our Village Hall, our Play Area, our Recreation Field and our Cricket Pavilion. These are all owned by, and for the use of, our community. We must use them. I am sure we are all looking forward to some sort of normality this summer. We will need to get together to celebrate just being here in Little B.
Simon Hedley