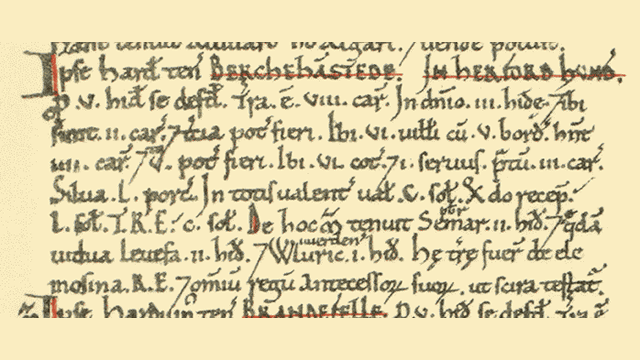 Although it can trace its past back to Saxon times and perhaps beyond, Little Berkhamsted's greatest claim to fame is that it was here that William the Conqueror accepted the surrender of the City of London after the Battle of Hastings.
At the time of the Domesday survey in 1086 the manor was held by Hardwin of Scales, and was rated as five hides (roughly 600 acres). A further two hides were held by Saemer, a priest; Leofeva, a widow held another two hides and Wulfric Warden held one hide, all alms of King Edward and his predecessors.
The Domesday Book entry reads: Hardwin himself holds [Little] Berkhamsted. It is assessed at 5 hides. There is land for 8 ploughs. In demesne 3 hides, and there are 2 ploughs, and there can be a third. There 6 villans with 5 bordars have 4 ploughs, and there can be a fifth. There are 6 cottars and 1 slave, meadow for 3 ploughs, and woodland for 50 pigs. In all it is worth 100s; when received, 50s; in the time of King Edward 100s. Of this manor Sæmær the priest held 2 hides, and a certain widow, Leofgifu, held 2 hides, and Wulfric Werden 1 hide. These lands belonged to the alms of King Edward and all the kings his predecessors, as the shire testifies.
The name – Berchehastede in Saxon times – suggests that a homestead was originally built among the birch woodland, the beginnings of the settlement we have today. At times it has been known variously as Berkhamsted Parva or East Berkhamsted to distinguish it from its larger cousin in the west of the county.
The most notable landmark is almost certainly Stratton's Folly, a Georgian prospect tower built in 1789 by John Stratton close to the site of a former brewhouse. Although the reason for building the tower is not known, stories that Stratton was an admiral who wanted to be able to see his ships moored on the Thames are certainly nothing more than fiction. Most likely Stratton simply wanted to enjoy the views offered by this folly. Leaflet from Gardens Day, 1999.
There are two former rectories, Old Rectory and Trewinnard House, as well as the present rectory, Hartford Hundred House, two former manor houses and a former school in Little B; and there was once a butcher, a forge and, until quite recently, a garage in the village. There was a post office at Little Berkhamsted and at Epping Green.
Domesday Book entry for Little Berkhamsted (opposite) courtesy Professor John Palmer, George Slater and opendomesday.org